Pastoral Care
Joining a school can be a big change. You're part of a diverse group, often away from your home country, mastering a new language and a challenging curriculum.
At UWC, we make sure that all of our students feel supported, inspired and welcomed in their school community.
Each UWC school has an on-site team that supports your well-being including but not limited to: house-parents, student advisors, peer support networks, nurses and counsellors, deans of students, health and wellness specialists, heads of residential life, psychologists and psychotherapists, and healthcare providers both on campus and locally.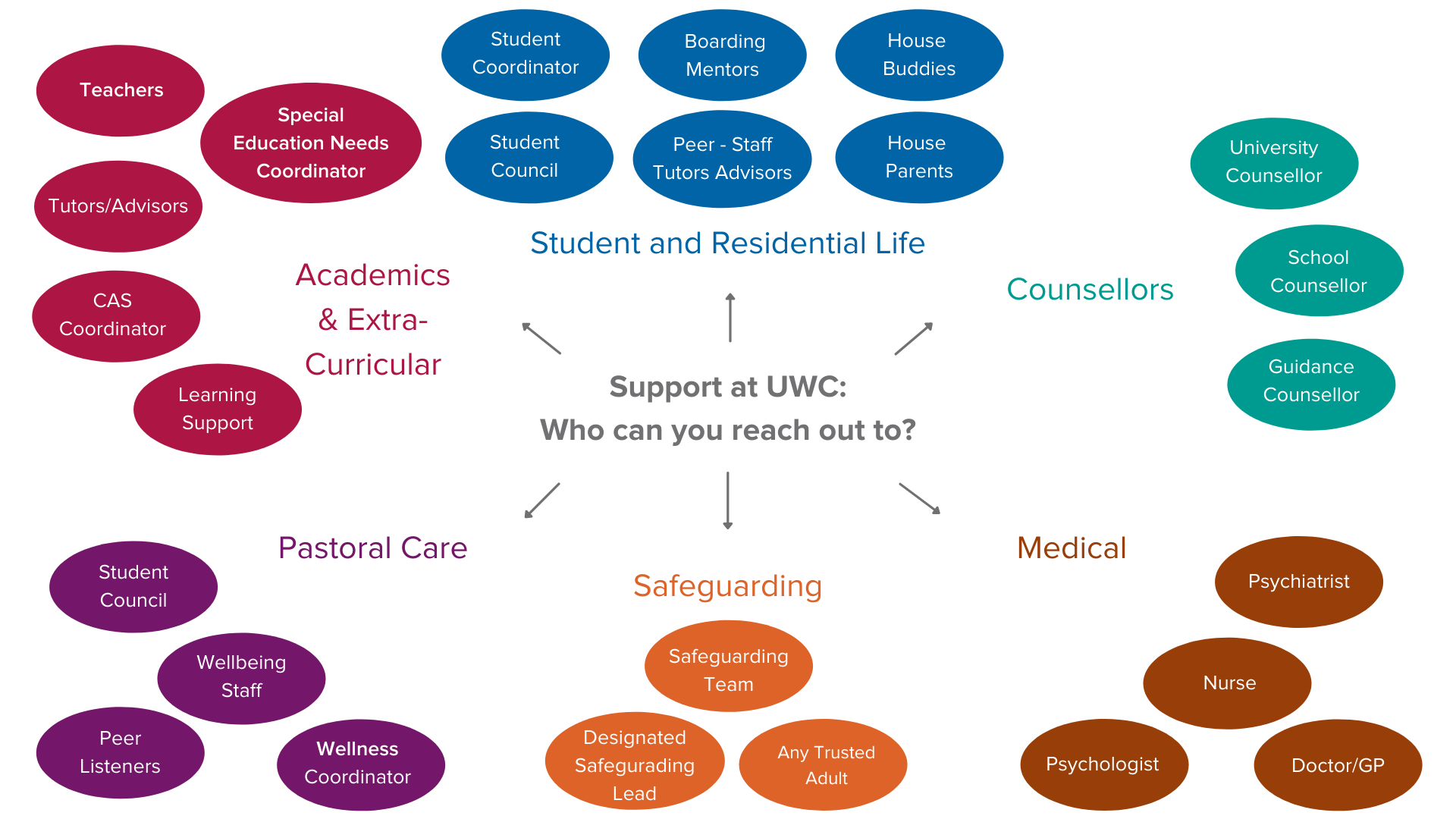 We also give students the tools to reflect on the part they play in their communities. We encourage them to think about how they treat others, and how they can help create a more respectful community, where everyone feels happy, safe and secure. During their induction, students also receive training to help develop their cultural sensitivity, and be better community members.
Pastoral staff regularly meet to ensure they too are working towards creating a healthy community with common goals. They are also offered forums which enable pastoral staff across the UWC movement to collaborate and support each other.
"The peer listeners are a group of students who have been invited to provide support to their peers. Any student can approach one of them and talk about their personal problems. The role of a peer listener is to help other students to explore what is going on in their lives and to identify signs and sources of stress, supporting them in sharing thoughts and emotions, referring them to other sources of help in the community when necessary or desirable. Research shows that peers are the first point of contact in times of distress, and that peer relationships can actually act as a buffer to stress. Feeling and experiencing that somebody is actually listening to us can be extremely helpful for our mental wellbeing. The peer listeners undergo training with the school psychologist participating in weekly sessions in which topics such as mental wellbeing and listening skills are explored."